A single application failure at a crucial point in a transaction can be complex to repair and cost millions in lost sales and customer goodwill. Testing is an absolutely critical element in ensuring that software and applications perform as specified, are rolled-out quickly and don't threaten business continuity during deployment.
However, for many companies, reaching this level of assurance presents significant challenges:
Quality Assurance (QA) and Testing are not core to the business, and dedicated testing resources are scarce or overstretched;
Specialist skills and test environments, such as multi-system end-to-end testing, are expensive;
Over-reliance on software developers results in production issues;
Business demands continue to grow particularly for 'right first time' software launches.
Managed Testing Services deliver cost optimization as well as demonstrable improvement in the quality of testing, processes, deliverables, results, and flexibility of test operations.
Managed Testing Services is the solution for clients who want to transform their testing function and achieve high-quality systems cost-effectively, without the expense of large overheads and day-to-day responsibilities, and without losing overall control.
Typical benefits from Managed Testing Services contract include:
Measurable improvement in quality and greater precision— proven detection rates of 98% or higher for high-severity defects can be achieved;
Improved time-to-market of 15% or more and greater transparency of your testing processes and procedures;
Scalable resource and delivery flexibility—highly skilled capacity to accommodate increased demand from your business;
Skills transfer — capabilities and a quality focus are embedded into your organization and consistent quality assurance is delivered across multiple supplier environments;
Continuous optimization and access to innovation techniques, such as Cloud Testing and Virtualization, to establish and maintain a competitive edge.
Significantly reduced total cost of testing—an optimal balance between local and offshore execution can result in cost savings of at least 25% in year one;
Standardization of reliable best-practice test processes— the right conditions can produce up to 30% reduction in the overall test effort;
Managed Testing Services Roadmap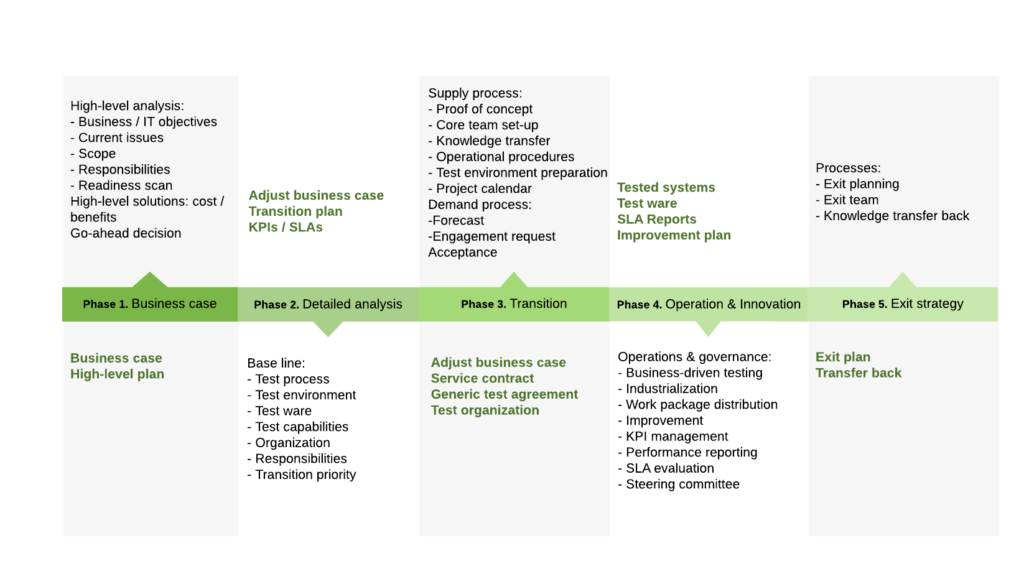 Full Test Service Concept
Supported by a wealth of test tools, innovative accelerators, and test environments, our range of services includes functional testing (system testing, acceptance testing, regression testing, E2E-testing), non-functional testing (performance, load, and stress, security, usability), and specialist test activities (test automation, test environment management).